2021
The so-called integrated approach to planning and implementing development activities has been tested in a group of pilot cities and towns over the successive year of predefined project delivery. Conditions for improved life quality across all locations will be enhanced as an outcome of local social and economic development, in recognition of civic participation in the process of urban governance component, principles of environmental protection, and improvements to local governments' institutional capacity. Twenty-nine cities and towns participating in the project were provided with funding totalling EUR 102 million. They will also vastly improve their programming effectiveness and implementation efficiency in the area of local development policies.

The role of the Association of Polish Cities involved assisting cities and towns in the process of drafting competition applications, and, at a later stage, supporting urban winners of the Ministry of Investment and Development grant competition in delivering approved plans and securing broad dissemination of integrated governance methods and tools throughout the community of other Polish cities and towns; drafting National Urban Policy recommendations; and engaging in bilateral co-operation between Polish cities and towns and local governments in donor countries.

Fifty-four cities and towns were approved for the second stage of the project in 2020. In June of 2021, the Ministry of Development Funds and Regional Policy decided – in consultation with donor countries – that the number of competition winners would be increased from 15 to 29; consequently, the number of grant beneficiaries rose while the individual grant amounts dropped significantly. The Association of Polish Cities expert team supported cities and towns in the process of drafting changes and documentation for purposes of agreements to be entered into with the Ministry of Development Funds and Regional Policy.

All cities and towns will be assisted at the stage of implementing Local Development Plans, Institutional Development Plans and selected development governance tools. The Association of Polish Cities will also focus on disseminating the use of all related instruments. Basing on project delivery experience, the Association of Polish Cities advisor team will describe models of strategic governance development in cities and towns struggling with demographic crisis and development slump effects, for model promotion purposes.

Bilateral Co-operation

By year-end 2021, in delivering the component of bilateral co-operation with donor countries, the Norwegian Association of Local and Regional Authorities (KS) identified Norwegian and Icelandic local government units as partners for 16 Polish cities and towns taking part in the Local Development programme. The Association of Polish Cities prepared opening online meetings (so-called "first dates") with Norwegian and Icelandic municipalities. The partner identification programme will continue until mid-2022. The Association of Polish Cities team will support bilateral contacts between Polish cities and towns and Norwegian and Icelandic municipalities.

Urban Development Governance Assistance Tools

Reasons for the Association of Polish Cities joining the projects include the option of developing tools to assist local development and service delivery to local residents. A development version of the Local Government Analysis System (System Analiz Samorządowych, SAS) was developed in 2019, assuming the format of a continuously developed Local Development Monitor (Monitor Rozwoju Lokalnego, MRL): https://systemanaliz.pl/monitor-rozwoju-lokalnego.

Owing to expert works by the Association of Polish Cities, the Local Development Monitor evolved into a separate organism at a new online address in 2021: https://monitorrozwoju.pl/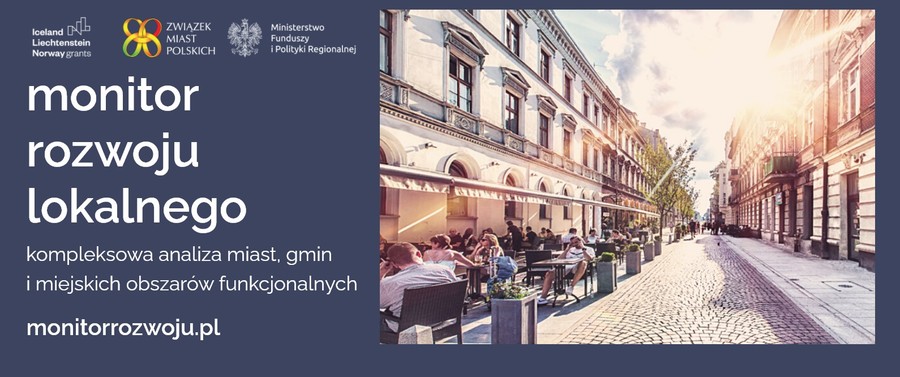 The website contains links to further four portals allowing cities and towns to analyse their socioeconomic situation with the use of a number of indicators and data acquired to develop aforesaid portals.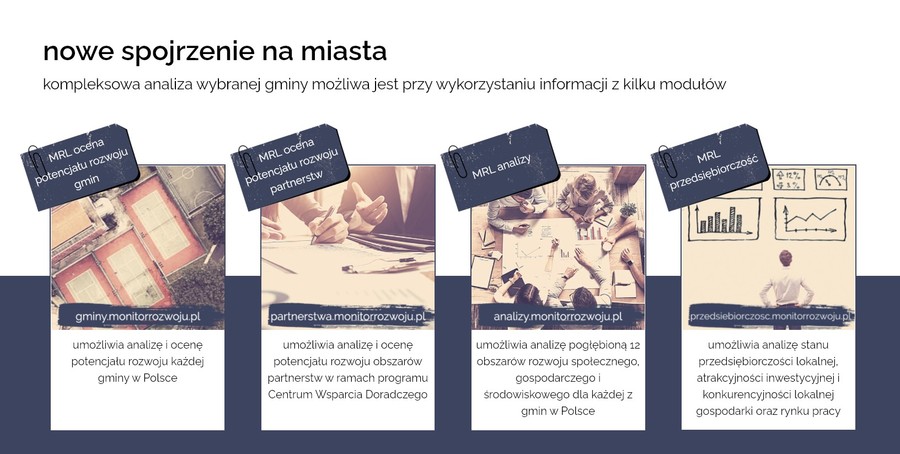 Data and indicators acquired by the Association of Polish Cities are available to all Local Government Units, allowing local mayors to monitor detailed parameters for their own location as well as neighbouring rural municipalities. All portals grouped in the Local Development Monitor allow continuous improvements in the year-to-year monitoring of urban conditions, diagnoses of actual changes to the socioeconomic situation against the backdrop of similar cities, and – in consequence – more reliable planning based on current data, under circumstances of dynamic and constant change. Portals are now undergoing modification, and will be subject to annual updates.

Component of Co-operation between the Association of Polish Cities and the Organisation for Economic Co-operation and Development (OECD)

Three meetings with OECD experts were organised over the period of January until the end of June 2021:

Consultation mission of the OECD expert team (Sounding-Board Mission, January 2021),
Workshop with a focus on OECD member state experience exchange in 8 Local Government Unit governance areas of key importance to local and supra-local development policies (Peers Workshop, mid-June 2021),
Closing conference to present main conclusions included in the Final Report (end of June 2021).

The Report wherein OECD presented its assessment of governance status at Polish Local Government Units and a set of change-related recommendations addressing local governments and the central government was finalised, published and submitted to governmental and local government agencies participating in the project. The Report is available on the Association of Polish Cities website: www.miasta.pl as a point of reference for talks with the central government concerning amendments to the legal system in terms of local government operations from the international experience perspective.

The institutional development Self-Assessment Tool designed by the OECD is also available on the Association of Polish Cities website: www.miasta.pl.

An online version of the tool is currently in the pipeline, to allow a broader use of the instrument as part of day-to-day municipal work.