On Building Cities and Towns of Tomorrow – report regarding a Local Development Forum seminar preceding the World Urban Forum
On Building Cities and Towns of Tomorrow – report regarding a Local Development Forum seminar preceding the World Urban Forum
The 11th Edition of the World Urban Forum will be held in Katowice from June 26 until June 30 2022. The World Urban Forum (WUF11) is the premier global event with a focus on urban policy and sustainable urbanisation, introduced by UN-Habitat.
For the first time in WUF history, the event will be organised in Central and Eastern Europe. The Association of Polish Cities intends to take advantage of that development to the purpose of popularising urban themes and a new National Urban Policy across Poland. Through seminars addressing cities and towns, the Association is offering them an option to identify and discuss major issues to be presented at assorted thematic events planned for the June edition of the World Urban Forum.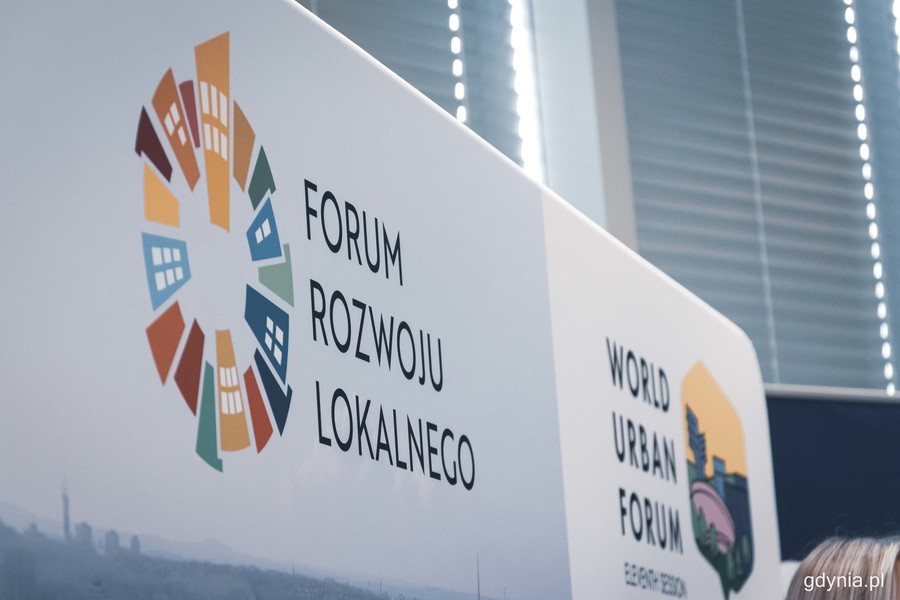 "In preparing for the World Urban Forum to be held next month already, we are making a crucial decision regarding the importance of dialogue and joint governance in developing the future of our cities and towns. I also believe that the topic of today's seminar is a perfect fit for the lead theme chosen for the WUF11, "Changing Our Cities for a Better Future", said Małgorzata Jarosińska-Jedynak, Secretary of State at the Ministry of Development Funds and Regional Policy.
On building urban resilience
Ms. Jarosińska-Jedynak further emphasised that as one of the organisers, Poland intends to visibly focus on issues of building urban resilience and drafting urban development strategies during the World Urban Forum session, in recognition of potential shock effects and measures of responding to unexpected crisis phenomena – problems have to be resolved in ways ensuring that post-crisis operational normalcy can be restored while guaranteeing learning- and conclusion-based long-term development.
Given the extraordinary wartime circumstances we are observing and functioning in, the phrase "recovery"
will most certainly be a recurrent one throughout the WUF11 session. "As the Forum's host country, we are preparing a special-purpose session with high-ranking politicians in attendance, with a focus on post-war, but also post-natural disaster urban recovery," Małgorzata Jarosińska-Jedynak announced. "We intend to concentrate on the social dimension of urban recovery, a momentous topic matching the dialogue and debate on how to create local resident communities resilient to assorted crises."
Gdynia is counting on residents
"I am very happy to see this fascinating debate being held in Gdynia. It is a truly special space we are now in – UrbanLab has been developed with intent to develop multiple participation models in our city. I believe that given the times we have found ourselves in, over recent years in particular, we are facing an extraordinary volume of challenges, all provoking and stimulating us into rethinking the very essence of local government. Self-governance is not about the City Council or the mayor – it is mainly about local residents, after all," said mayor of Gdynia Wojciech Szczurek.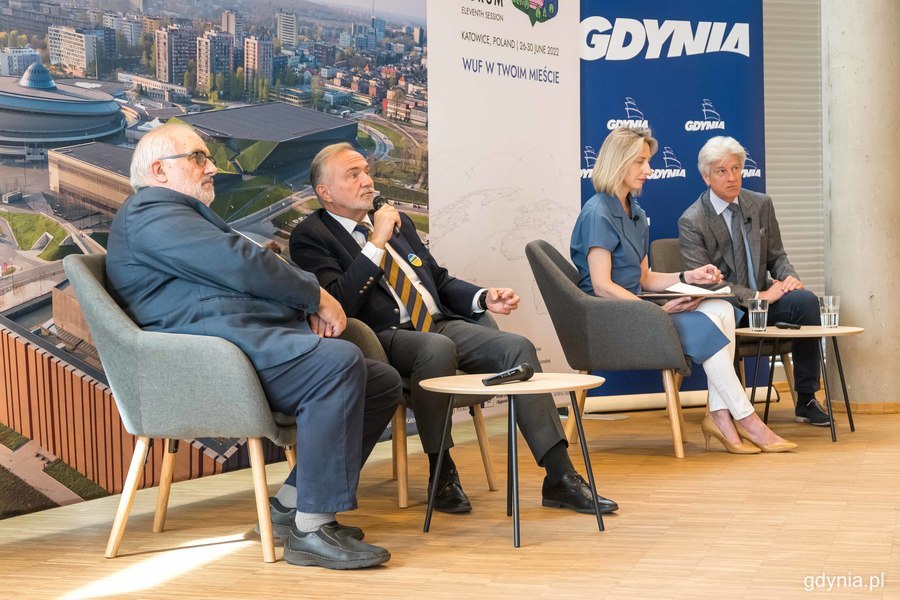 "It is no unexpected twist of fate that we have ended up in Gdynia. Ever since the 1990s, Gdynia has been in the number of Polish cities who have – considerably earlier than multiple other municipalities – become aware of the importance of building sound relations with local residents," said Executive Director of the Association of Polish Cities Andrzej Porawski. "It was natural for us to focus on the quality of governance, quality of management when rebuilding our local governments, especially in the 1990s. Having developed a sense of assuming actual responsibility for our inhabitants, we tried to do whatever we could to do the best job possible – yet at that point many of us became managers. While we have succeeded in transferring these managerial functions to directorship or municipal authority levels, a growing number of us local government people are becoming relationship builders. Some have just begun discovering that mission, and we are all in a learning process, yet we have realised that it is a key contributing factor to the sound urban development."

Topics raised during the seminar included social participation and dialogue in constantly evolving communities. Deputy mayor of Gdynia Michał Guć described the local model of collaborating with non-governmental organisations.
We are living in "Churchillian" times
Head of the "Shipyard" Foundation Kuba Wygnański recalled the twists and turns in relationships between local governments and non-governmental organisations, the "growing pains" of both sectors, and their mutual relations. "Leaderships have changed considerably since the 1990s, they have become a necessity, and must do more than reference proper spatial arrangement. Leaders have to appeal to citizens, recalling the idea of communities as the foundation of self-governance – local governments are not administrative structures, they are communities of residents," he said. He also pointed out that the "smart cities" concept does not mean that computers are going to replace humans in problem solving. Being truly "smart" stands for a capacity to take action in times of shortage, make something of nothing. "We are living in "Churchillian" times of everyone expecting to be told what to do and how to share the load. There is one other quote from Churchill I really like: 'Gentlemen, we are out of money; now we have to think'. I believe that this is a borderline moment of many truths coming to light: we will find out who true leaders are, what people can do, and who can be relied on."
"Over the time of both crises – the pandemic and war in Ukraine – we truly discovered that assorted forms of state-secured safety are as important as the ephemera evolving in human communities, proving to what extent we can depend on each other," said Kuba Wygnański. "The category of relationship-based – not just physical – equity is enormously important, requiring solid leadership and trust. Cities and towns are hugely varied in terms of their capacity to pull through in difficult times, turning the sum of chaotically operating institutions, often as not competing with one another, into a form of spontaneous orchestration. And this is less about the chain of command than something truly rare and requiring exquisite artistry – the construction of systems capable of efficient workload sharing."
How referendums work in Poland
Communication in crisis was another subject discussed at the seminar. Matters of local referendums – the most powerful instruments of local community participation in public life – were raised. Andrzej Porawski emphasised that while this particular form of democracy is most frequently employed to dismiss local governments, Poland does have a history of referendums "in support of a cause", such as the reverse charge decision approved by inhabitants of the Komorniki municipality near Poznań (to improve waste management), or modifications to local government administrative boundaries.
Mayors of Sopot and Nowy Dwór Mazowiecki – Jacek Karnowski and Jacek Kowalski – shared their experience of the referendum as an institution.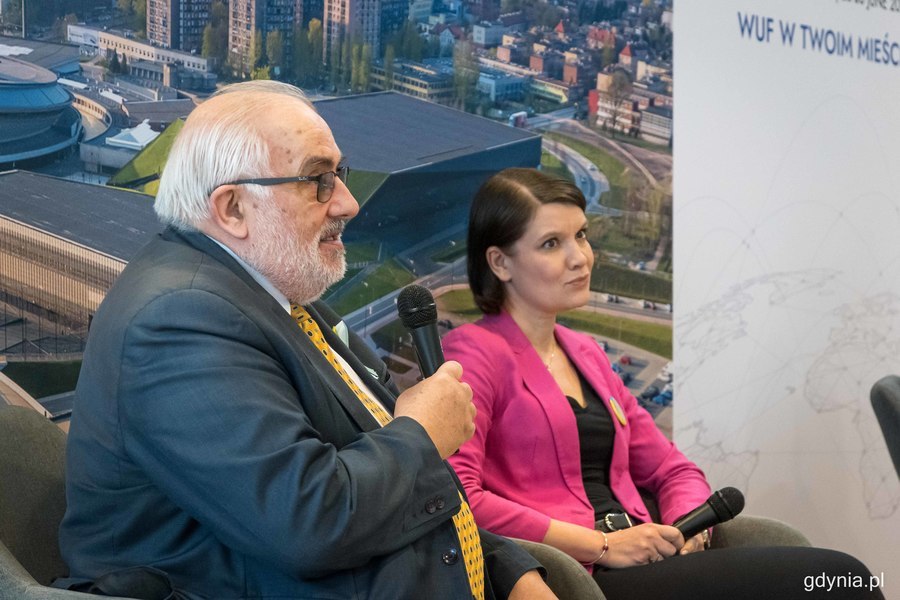 "Referendums are extraordinary measures, ongoing participation is much more important to daily life, regardless of how varied its course may be in terms of the local community's actual impact on what is going on in town. While the referendum can be recognised as an ultimately formalised mechanism, everyday life involves a number of other forms, occasionally not formal at all. You can approach local authority representatives in the street to let them know what ails the locals. If not fond of talking to people in the street, you can turn to social media," said Katarzyna Gruszecka-Spychała, deputy mayor of Gdynia for economic affairs.
Trust in times of crisis
Anna Szadkowska-Ciężka, Deputy Director for Equal Treatment and Social Consultation at the Municipal Authority's Office of Social Participation, presented Lublin's experience in organising assistance for Ukrainian refugees and getting local residents and volunteers from Ukraine involved. According to Ms. Szadkowska-Ciężka, mutual trust was of key importance to the city's success in terms of organising an effective refugee assistance system. "Our local government was very much aware that we would never be able to manage the refugee crisis alone," she said.
Importantly, cities and towns can seek multiple social participation recommendations and practical guidelines in OECD's "Better Governance, Planning and Services in Local Self-Governments in Poland" report describing the condition of Polish local governments. Works on the report formed part of a broader process of supporting Local Government Units as part of the "Local Development" Programme.
It is noteworthy that the series of seminars is delivered as part of the "Local Development" Programme implemented by the Ministry of Development Funds and Regional Policy within the framework of the 3rd edition of Norway and European Economic Area Grants.

Photographs by: gdynia.pl